Helping
Beauty Salons
Spas & Skin Clinics
Dominate through
Digital Marketing
DATA-DRIVEN SALON MARKETING SPECIALISTS
IS SAVVY SALON MARKETING RIGHT FOR ME?
We may be your next BEST business investment,
if you've ever asked yourself "How Can I…."
Get more clients to my salon and keep them coming back?
Stop wasting time and money on marketing that doesn't work?
Figure out social media marketing for my salon?
Make more sales and get my clients spending more?
Balance my time between working with my clients and marketing my salon?
Get off the tools and lead and manage my team?
If you have a social media or business marketing problem you need to solve for your salon, book a one-on-one session and together we'll find the marketing solution to your specific business needs.
Salon Business Success Starts Here
We use a customized mix of social media and digital marketing strategies and technologies to deliver tangible results to your salon bottom line.

SOCIAL MEDIA MARKETING
We design social organic and paid campaigns to build awareness, create more enquires and generate more bookings and sales for your salon.

WEBSITE &
LANDING PAGES
We design and create websites and landing pages to showcase your salon and get your promotions out to your current and prospective clients.

EMAIL
MARKETING
We create email marketing campaigns and automated sales funnels to nurture and strengthen your new and current client relationships.

DIGITAL AND SEARCH MARKETING
We get your salon found online through the power of Google Ads, Google Display, Google Business Profile and free and paid SEO strategies.
SALON MARKETING STRATEGIST
A former beauty therapist for over 30 years, Kirsten is unique because she is also a degree-qualified marketer with over 15 years corporate marketing experience.
Kirsten has owned and operated three successful beauty therapy salons and has been helping salon and spa owners from around the world build a business that supports their entrepreneurial and lifestyle goals.
OUR SALON SOCIAL MEDIA PLANS
Transform your social media online presence with a beautiful and consistent look and feel.
Increase your salon brand awareness, engagement and followers and ultimately get more bookings and sales.
Maximise the full potential of social media marketing to grow your salon business performance and surpass your competition.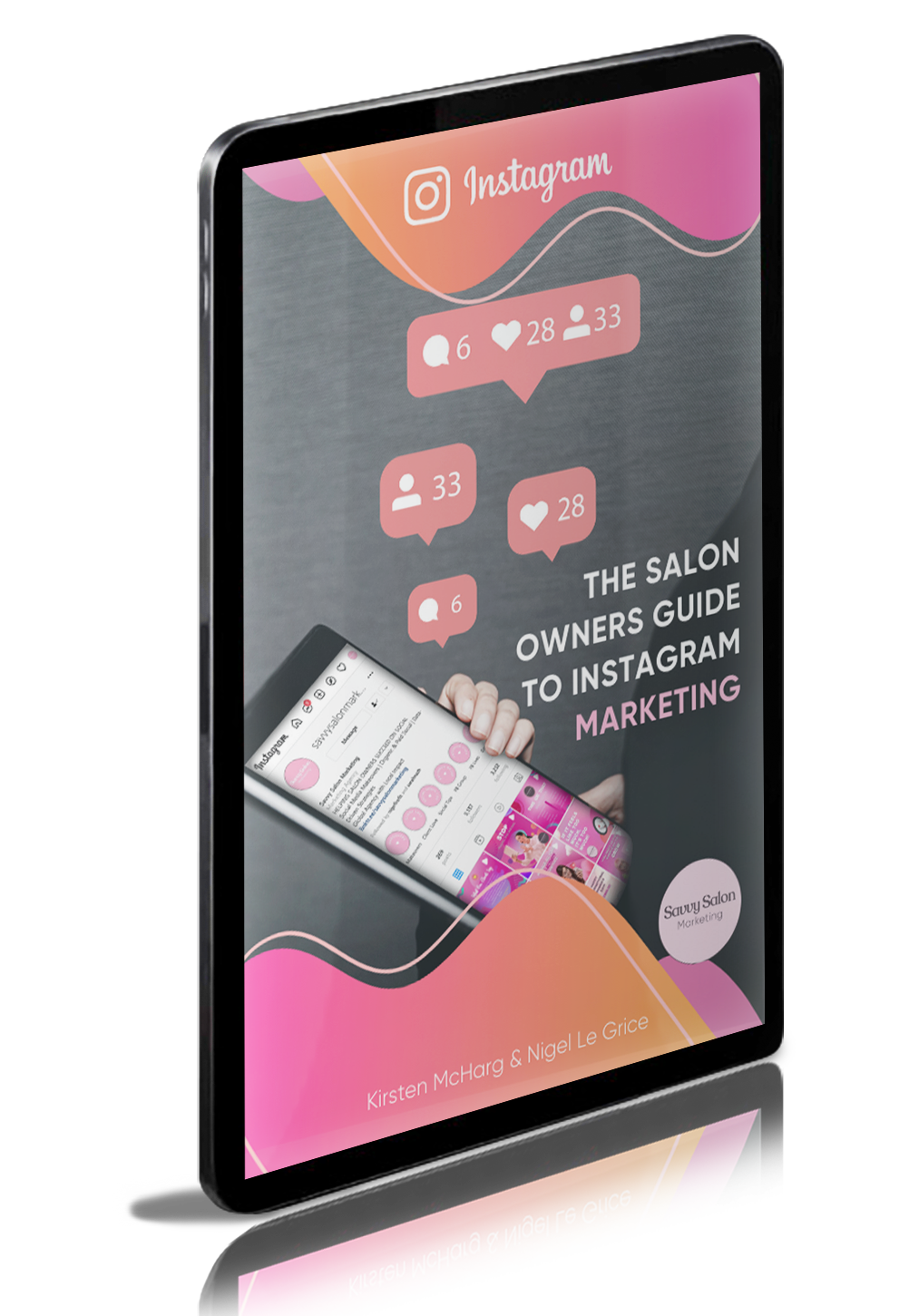 HOW TO USE INSTAGRAM TO BUILD YOUR SALON BUSINESS & SAVE WASTED TIME & MONEY FIGURING IT OUT
Discover 15 ESSENTIALS of Salon Instagram Marketing you must implement to dominate your local market and smash your competition.
Download this FREE ebook now and immediately start to engage your ideal clients and turn them into paying customers. Get more enquiries, bookings and sales without wasting time and money on strategies that don't work.
"I'm loving what you are doing with my social media. I wish I had started doing it a long time ago. It's crazy how many new post likes we are getting now. I think you are nailing the philosophy behind our work at Glow."
"The salon has been pumping. We have had soooo many new clients come in. On average we are getting about 2-3 new clients per day. So whatever you are doing is working."
"Our sales and bookings have increased. It's great to have a solid sales and marketing program mapped out; it gives us confidence in the future. We love Kirsten's passion for our salon and consider her part of our team."
"We found working with Kirsten extremely easy and her knowledge of the industry is second to none. We would definitely recommend her services to anyone requiring a marketing specialist in the beauty industry."
"I would highly recommend Kirsten. She is very professional, easy to talk to and has so much industry knowledge. She has inspired me to push myself beyond my business goals. Give Kirsten a call. You won't regret it and it will be money well spent that will change your business forever."
"Kirsten! I LOVE LOVE LOVE these templates. They look fab. Thank you."
"Through Kirsten's work, I been able to achieve my goals and now have strategies in place that I can use over and over again. I cannot recommend her enough. There is nothing quite like this for our industry."
LET US HELP YOU
Succeed On Social Media Now
WE LIVE AND BREATHE SALON SOCIAL MEDIA MARKETING
Follow our Social Media Channels for Tips and Tricks to Help you Succeed